Alternate History Comics Inc. produces and publishes award-winning original graphic novels, comic books and special collections.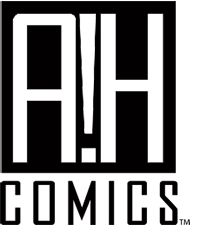 Based out of Toronto, Canada, AH Comics is settled into one of the most diverse and popular cities for writers and artists. Through this rich market AH Comics has tapped the landscape and produced several critically successful books since it's inception in 2011.
With North American distribution, Chapters/Indigo, Amazon, IPG and Barnes & Noble, AH Comics is excited to be growing and adding more projects for release into stores near you!
The original graphic novel Titan: An Alternate History has been featured in The National Post, SPACE, and with Fearless Fred of 102.1 The Edge. Written by Michael Tymczyszyn and illustrated by Andy Stanleigh, the book has received exceptional reviews from fans and critics alike, including "The Best In New Graphic Novels" by the National Post. Titan has since been included as required reading for a Contemporary Canadian Literature course at Western University.
AH Comics raised over $52,000 on Kickstarter to produce the 256 page Jewish Comix Anthology: Volume 1, which includes rare and never-before-seen work from some of the biggest names in comic book history, including Will Eisner, Robert Crumb, Art Spiegelman, Michael Netzer, Clifford Meth, Harvey Pekar and Stan Lee! This Anthology has been featured in the media at large, as well as a special segment on InnerSpace.
AH Comics is also excited to introduce Delta, a unique 16 page graphic novel/album combination with music by the eclectic jazz instrumental quartet The River Pilots. Delta was in the selection process for a Juno Nomination for "Best Package Design" in 2013.
Also currently available is the dark psychological thriller Hobson's Gate | Trauma – an original graphic novel written and illustrated by Andy Stanleigh, the co-creator and artist of Titan. Hobson's Gate | Trauma is part one of a three part series, and has been nominated for an Associated of Arts & Social Change Canadian Publishing Award, as well as an AASC People's Choice Award.
Our latest publication, MOONSHOT The Indigenous Comics Collection, was another Kickstarter success story, being named as one of the Top Canadian Entrepreneurial Crowdfunding Campaigns by the Globe & Mail, raising over $74,000. MOONSHOT, edited by Hope Nicholson, brings together dozens of creators from across North America to celebrate indigenous storytelling. From traditional stories to exciting new visions of the future, this collection presents some of the finest comic book and graphic novel work on the continent.
MOONSHOT The Indigenous Comics Collection has recently been awarded the title of one of The Best Books of 2015 by the School Library Journal – the largest book reviewer in the world. This publication was also put on the exclusive CBC Holiday Gift Guide 2015.
.


As a company that supports original content and talent, AH Comics is always open to accepting submissions from comic book and graphic novel creators. If you have a completed graphic novel or comic book you would like us to consider publishing the please click here to contact us.