AH COMICS IS AN AWARD WINNING SMALL PRESS PUBLISHING COMPANY IN TORONTO, PRODUCING ORIGINAL GRAPHIC NOVELS AND COLLECTIONS
Since our inception in 2011, we have produced original graphic novels and collections that are sold around the world, earning nominations and multiple awards.
Our books include the critically successful debut publication Titan: An Alternate History, the Juno Award Nominee shortlisted title River Pilots' Delta, the massive 256 page Jewish Comix Anthology featuring a story edited by Stan Lee, the Association of Arts & Social Change Canadian Publishing Award nominated graphic novel series Hobson's Gate and the multiple-award winning MOONSHOT The Indigenous Comics Collection.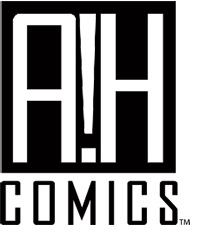 "AH" stands for Alternate History – named after our first title Titan: An Alternate History, which was called "The best in new graphic novels!" by The National Post (2011). While it was not meant to be a moniker for the types of books we would produce moving forward, it stands that all of our content falls within the "alternate history" style.
AH Comics is owned and operated by Andy Stanleigh, an award-winning producer, art director, graphic novel artist and designer. We have worked with some of the biggest names in comic book history, including Art Spiegelman, Stan Lee, David Mack, Ty Templeton and more. We are proud to have created a library of original graphic novels and collections that have involved almost 100 authors and artists from across the globe, and connected people with their fans and creations. We regularly give back to the community by donating hundreds of Indigenous Comics Collection books to schools and libraries in Canada and the US, as well as donate a portion of proceeds of our Hobson's Gate books to mental health charities in Canada.

For updates on our books, shows and events please visit our News page often, as well as follow us on Twitter and join us on Facebook