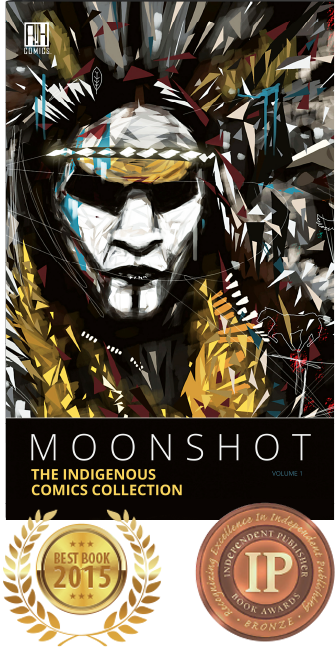 AH Comics brings you the multiple-award-winning MOONSHOT: The Indigenous Comics Collection!
MOONSHOT is a collection of short stories created by indigenous writers and incredible artists in Canada and the US. From traditional stories to exciting new visions of the future, this collection presents some of the finest comic book and graphic novel work in North America. The traditional stories presented in the book are with the permission from the elders in their respective communities, making this a truly genuine, never-before-seen publication. MOONSHOT is an incredible collection will amaze, intrigue and entertain!
MOONSHOT received the Bronze Medal in the 20th Annual Independent Publisher's Awards for "Best Graphic Novel"! This publication was also awarded the title "The Best Book of 2015" by the School Library Journal – the largest book reviewer in the world.